They're here! After weeks of speculation, this week Apple unveiled four new handsets in the iPhone family: the iPhone 13 mini, the iPhone 13, the iPhone 13 Pro and the iPhone 13 Pro Max. There's also something new for iPad and Apple Watch users.
Here's everything we love about Apple's new line-up.
There's a size for everyone
However big or small you prefer your phone to be, iPhone 13 has you covered. If you like small phones, easy enough to slip into your back pocket, the iPhone 13 mini is the way to go, measuring just 5.4 inches.
Both the iPhone 13 and 13 Pro phones measure 6.1 inches long. The iPhone 13 is the lighter of the two, thanks to its aluminium frame. The iPhone 13 Pro is heavier due to its stainless-steel coating.
The largest of the bunch, as you'd expect, is the iPhone 13 Max. It measures 6.7 inches long, so it's ideal if you prefer working on a bigger display.
Ready, camera, action
Every year, Apple makes major updates to its camera hardware and software, and this year is no exception. All four iPhone models can create some of the best photos available on a smartphone, but there are some key differences between the regular and Pro models.
If you need a smart, fast phone with a trio of cameras more powerful than any iPhone before it, look no further than the iPhone 13 Pro and Pro Max.
The upgraded camera features on these were a highlight of the launch event. The super intelligent software has photo taking and film making techniques including Autofocus, a 3x optical zoom and an ultra-wide lense capturing up to 98% more light than before. Night mode is also available on all the lenses.
The iPhone 13 and iPhone 13 mini have two improved lenses, a 12 mega pixel main, and 12MP ultra-wide camera, which are now arranged diagonally.
The camera setup on all four models also includes a new "cinematic mode" that lets you change the focus on subjects live while you are recording.
If you're taking photos primarily for fun or social media, the iPhone 13 should work well. The iPhone 13 Pro is the best bet for business or creative professionals who really need to get that perfect shot.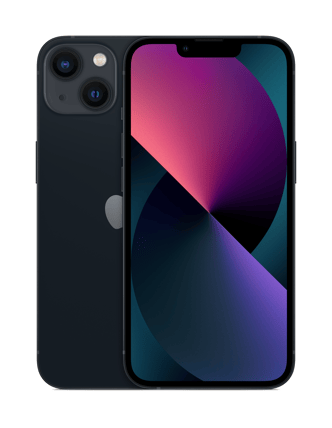 Power and performance
The iPhone 13 lineup features the new A15 Bionic chip – the world's fasted smartphone chip, and up to 50 percent faster than top competitors.
Capable of 15.8 trillion operations per second, the chip means that features like Live Text, Face ID unlock and photo and video capture are faster than ever before.
The iPhone 13 Pro lineup is top of the game when it comes to power and performance with a slightly better graphics processor. But the iPhone 13 and iPhone 13 mini are by no means less powerful. These phones are ideal if you're using multiple apps at once as the A15 chip means both have up to 30% better graphical performance.
Better battery life
All four iPhone 13 models have larger batteries this year, which means you should easily be able to get through a full day of work without much problem.
Taking advantage of the A15 Bionic chip, which helps with power optimisation, the iPhone 13 will last 2.5 hours longer than the iPhone 12, and the iPhone 13 mini 1.5 hours longer than the iPhone 12 mini.
The iPhone 13 Pro Max has an extra 2.5 hours of juice throughout the day. The 5G capable devices also have a Smart Data mode, where you can switch down a gear if you're not using data to save power.
Super display
The iPhone 13 Pro and iPhone 13 Pro Max feature a Super Retina XDR display with ProMotion.
ProMotion means faster refresh rates (between 10 and 120 times a second) for more dynamic and responsive scrolling. This is adjustable too, meaning that while you're browsing the web, texting or writing notes in a meeting, the phone can adapt. If you've ever used an iPad Pro and noticed how smooth its ProMotion screen is, get excited.
The iPhone 13 and iPhone 13 mini have also gained brighter OLED displays, topping out at 1,200 nits max brightness.
iPad Mini for business
The new iPad mini is small, but big. It has the same A15 bionic chip as the iPhone 13, is available in 5G, supports Apple Pencil 2, a 12MP ultra-wide front camera and has 8.3 inch retina display. It even comes in multiple new colours. A powerful tool and the perfect device that can be carried anywhere.
Like the iPad Air, Apple have ditched the home button, moving the Touch ID fingerprint system on the top right of the frame.
It's a solution for a range of applications – it can be taken out and about if you're working in the field, used in meetings, on the go or even as a replacement to your laptop. 5G and cellular means there's no need to worry about WiFi wherever you're working.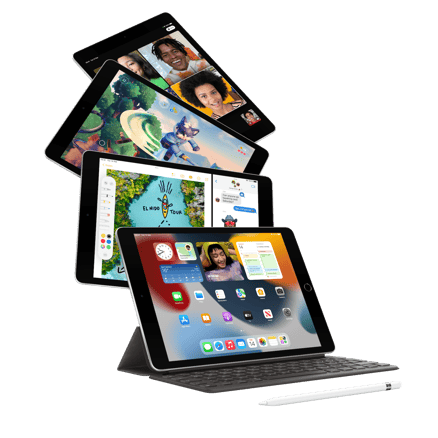 Be more productive with the iPad
Multitasking is made easy with the new iPad. Power through any task and work in multiple app windows at once.
The A13 Bionic chip it has makes everything more responsive, from messaging to web browsing or effortlessly powering advanced apps like Adobe Fresco. And longer battery life means its ready for as long as you need it.
Are you hybrid or remote working? The Centre Stage feature makes video calls more engaging by automatically adjusting to keep you centered in the frame. And it lets you create fun videos for posting to social media. In addition to Centre Stage, the 12MP Ultra Wide front camera brings a huge boost in image quality for even better group shots – or selfies.
The back camera also lets you scan documents and experience immersive AR apps.
If you have a business that requires fliting between office and home or being on the road frequently, carrying an iPhone or iPad instead of a laptop might be a better option.
Apple Watch Series 7
Not forgetting the Apple Watch Series 7, upgraded with its most advanced Always-On Retina display. This screen is 20% larger than the 6 Series and the watch now comes in 45mm and 41mm size rather than 40mm and 44mm.
Charging speed is also increased, you can go from a flat battery to 80% in 45 minutes. It comes in 5 colours, blue, green, red, midnight and starlight.
So which Apple product should you choose? The iPhone 13 and iPhone 13 Pro lineup has a great balance of power, features, and battery life. The iPhone 13 range and iPads are available to pre-order from 17th September and will be on sale on the 24th. We have a bit longer to wait for the Apple Watch Series 7 which will be released later this Autumn.
Get in touch with our Apple expert team on 03300 888 999 to find out more about our full range of services for Apple.