Onecom has been recognised for its commitment to outstanding customer services with one of the industry's most prestigious awards.
Onecom, which has headquarters in Hampshire and offices around the UK, in Wales and in Northern Ireland, won the award for Customer Service Team of the Year in the 2017 Comms Business Awards.
The accolade, one of the most sought-after in the world of business-to-business telecoms, was in honour of Onecom's work to put excellence in customer service at the heart of its operations. It was accepted by Stu Jeffries, Head of Customer Services at Onecom, and Storm Strugnell, Customer Services Manager, at a ceremony hosted by entertainer Al Murray at the Royal Lancaster London Hotel.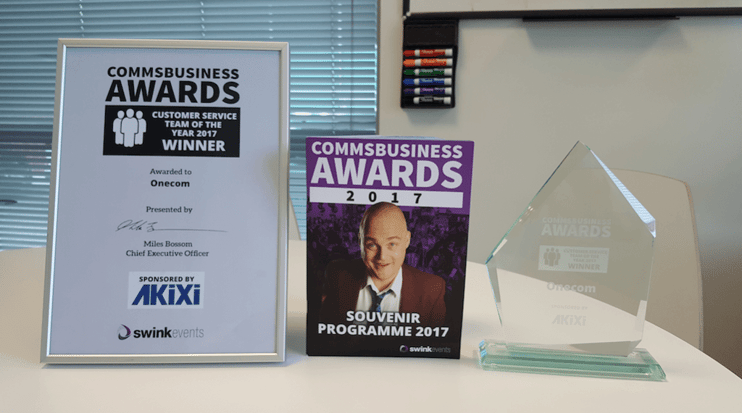 The Comms Business Award is the second major industry accolade for Onecom this month. At the start of June the company won the title of Best Unified Comms Dealer at the Mobile Industry Awards.
Darren Ridge, Onecom CEO, said: "Customer service is the driving force behind Onecom – customers are the reason for our success and for our continued growth as a leader in mobile and unified communications solutions.
"Our relentless drive to constantly review and improve the customer experience has resulted in us leading the field with customer retention rates that are unheard of elsewhere in the industry. I am delighted for our hardworking, dedicated customer services team that this commitment has been recognised with this national award."
Onecom has an industry-leading customer retention rate and uses a scoring matrix to ensure its teams are exceeding standards in areas such as professionalism, knowledge, response times and accuracy. Of the company's 400 staff, around 100 are employed in dedicated customer service and technical support roles.
Over the last two years the company has introduced new coaching and training measures for staff including a Onecom Training Academy, which ensures its teams meet the highest standards in customer services and product knowledge.
---
Onecom is the UK's largest independent business telecommunications provider, operating throughout England, Wales and Northern Ireland from 12 regional offices, including London, Cardiff, Southampton, Plymouth, Leeds, Telford, Norwich and Brighton.
The company currently manages over 325,000 mobile connections, delivering communication services and unified solutions across fixed line voice, connectivity and cloud computing to some of the UK's most dynamic companies.
Onecom was voted Vodafone Platinum Partner of 2011, 2012, 2013 & 2014. In 2015 and again in 2016, Onecom was named Vodafone's Total Communications Partner – the network's highest accolade. It is currently Vodafone UK's largest partner.
Pictured main (left to right) are: Al Murray; Storm Strugnell and Stu Jeffries of Onecom; Miles Bronson, CEO of Comms Business; and event co-host Ellie Torres.
Telecoms are a core part of every business. Talk to Onecom on 03300 24 00 00 or visit onecom.co.uk.