Onecom CEO Darren Ridge battled hills as he cycled a gruelling 300-mile route to raise £15,000 for veterans' charity Care after Combat.
Darren was supported on two wheels by Onecom Solutions Director James Bannister and Finance Director Adam Fowler as he took on the challenging Pickle Ride along the route known as the Trafalgar Way.
The three-day event saw a 25-strong team travel from Falmouth, Cornwall, to London, taking in more than 20,000ft of climbing along the way.
The route follows the historic journey taken in 1805 by Royal Navy officer Lieutenant John Richard Lapenotiere of HMS Pickle, who landed at Falmouth before travelling to London in a horse-drawn carriage to break the news of Nelson's victory and death at the Battle of Trafalgar.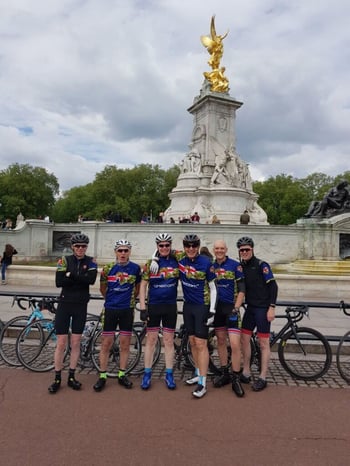 Darren is Vice President of Care after Combat, which supports the well-being of veterans, particularly those with alcohol and substance misuse problems, and helps reduce re-offending. The charity is based at Whiteley, near Onecom's headquarters.
Sponsorship for Darren from friends, family and business contacts helped bring the total raised to almost £15,000. Donations are still being taken at www.justgiving.com/fundraising/onecompickleride
Darren said: "I love a challenge, especially in aid of a charity that is so close to my heart. I am a regular cyclist but the climbing in this route made it difficult, especially in Cornwall where the hills come one after the other without much time to recover between them.
"The cold and rainy conditions on the first day, when we went from Falmouth to Exeter with about 10,000ft of hills, didn't help! The second day from Exeter to Salisbury was a similar amount of climbing, but at least the weather was better.
"The last day, down to London, was flatter and it seemed to go pretty quickly. It was a great, challenging experience but more importantly I'm pleased to have raised a good sum for Care after Combat, and would like to thank everybody who supported me."
[Pictured: Darren Ridge (third from right) with fellow riders in London at the end of the Pickle Ride.]
---
Onecom is the UK's largest independent business telecommunications provider, operating from 12 regional offices, including London, Cardiff, Southampton, Plymouth, Leeds, Telford, Norwich and Brighton.
For more information about Care after Combat and its work with veterans visit www.careaftercombat.org