Onecom has partnered with the Irish Football Association to encourage local businesses to lace up their football boots and join the inaugural Onecom Business League.
The five-a-side football tournament will kick off on Tuesday 29th August at Playball, Stormont. Twenty four teams will compete for silverware and a training session with the Northern Ireland national team coaches.
The new league follows a pilot tournament which was won by Belfast-based financial services firm, FinTrU, in June.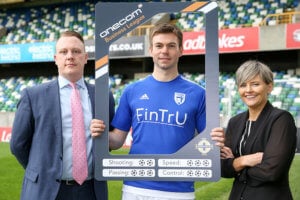 Paul Lawther, Head of Onecom in Northern Ireland, commented on the launch of the league: "We are delighted to partner with the Irish FA to start our football league. It is well known that Northern Ireland has world class talent both on the pitch and in the boardroom. The Onecom Business League will bring these two worlds together and create a new element of competition between some of our top businesses."
Oonagh O'Reilly, Sales and Marketing Director at the Irish FA added:
"The Association is pleased to welcome Onecom as a sponsor of our Business League. The Irish FA's mission is to promote, foster and develop football for all and this new Onecom Business League fits with our commitment to growing participation at all levels. For employees this is a fun and competitive sporting activity, for employers it is an opportunity to invest in their staff's health and well-being. We look forward to the start of the Onecom Business League and to bringing companies across Northern Ireland together through football."
Entry is strictly limited to 24 teams and will be first come, first served. Teams can name a squad of up to ten players to compete in the 14-week league with small businesses encouraged to form teams from their business networks. The competition will culminate in the tournament final in early December which will include a celebration and business networking event hosted at the National Stadium at Windsor Park.
---
Telecoms are a core part of every business. Talk to Onecom on 03300 24 00 00 or visit onecom.co.uk.