Onecom has signed a deal to become the official communications partner of the Irish Football Association.
As part of the new deal, Onecom will be involved in the delivery of key digital upgrades to the National Stadium at Windsor Park and will become title sponsor of the newly formed Onecom Business League.
The partnership will also see Onecom support and advise on the development of the National Stadium as a fully connected stadium in the coming years.
Northern Ireland Manager Michael O'Neill said: "In football, good communication is an essential component of any successful team. The Irish FA's new relationship with Onecom will not only give the team access to the best communications technology, but will also allow us to find new ways to enhance the match-day experience. Onecom is a welcome addition to our team and we look forward to working closely with them."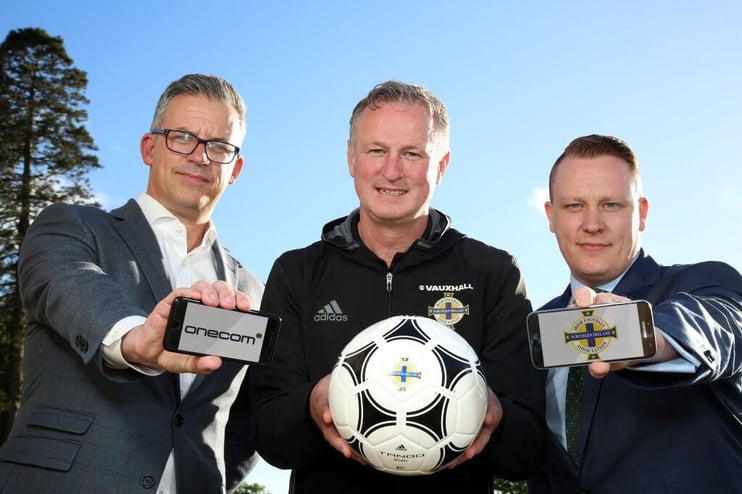 Jason Waterworth, Sales Director at Onecom (pictured with Northern Ireland Manager Michael O'Neill and Head of Mobile Sales for Northern Ireland, Paul Lawther) said: "Onecom's offering has been really well received since we entered the Northern Ireland market at the start of 2017. Our partnership with the IFA is further proof of our commitment to Northern Ireland and our desire to work with the best organisations in the province. We look forward to forming a winning partnership with the IFA for years to come."
Paul Lawther, Head of Mobile Sales at Onecom in Northern Ireland, added, "Onecom provides total communication solutions that contribute to overall success. As official communications partner of the Irish FA and sponsor of the Onecom Business League, we are looking to replicate that success both on and off the pitch. This opportunity allows Onecom to underline its commitment to the province and our willingness to engage with Northern Ireland businesses across the region."
Kathryn Platt, Head of Vodafone Partner Services said: "Onecom has executed a fantastic launch into Northern Ireland. We at Vodafone are delighted to see that our largest and award winning Total Communications partner has extended its footprint into Belfast on top of the 11 cities across the UK in which it is already based."
---
Onecom operates from 12 regional offices throughout the UK including its Northern Ireland headquarters in Belfast. The company is Vodafone UK's largest enterprise partner, managing more than 325,000 mobile connections and delivering communication services including fixed line, mobile, broadband and cloud computing to some of the UK's most dynamic companies.
---
Telecoms are a core part of every business. Talk to Onecom on 03300 24 00 00 or visit onecom.co.uk.