The UK's largest independent telecommunications provider, Onecom, has announced a new corporate partnership with boxer Carl Frampton MBE.
Onecom opened its Northern Ireland office in January 2017. The company has since moved into larger premises at Ormeau Business Park and has grown turnover to more than £2m in just over a year.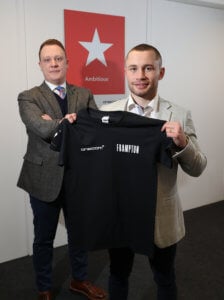 Carl will become an ambassador for Onecom and the business will become his official communications partner. The partnership will help enhance Onecom NI's brand while increasing Carl's corporate profile in Northern Ireland and wider UK.
Paul Lawther, Head of Onecom in Northern Ireland, said: "As one of Northern Ireland's best known sports stars, we are delighted to have Carl Frampton as our newest ambassador. Carl has a large fan base and broad appeal, especially in the business community.
"We partner with individuals and organisations who share our ethos, embrace collaboration and act as role models in their local community. We share a lot of the same values with Carl and we are confident he will help introduce Onecom to a wider audience."
He added: "Our first year of business in Northern Ireland has been hugely successful and these partnerships will play an important role in supporting the future growth of the Onecom brand."
Carl Frampton commented: "I'm delighted to be partnering with Onecom in a new ambassador role. They're one of the best known telecommunications providers in the UK and this new partnership will be mutually beneficial for both parties. Onecom are a well-respected brand and I hope to build a long term relationship with them.
"When I'm away in training camps, connectivity is really important to help me stay in touch with my family and I'm looking forward to working with the guys at Onecom to help promote the brand."
[Pictured: Carl Frampton MBE and Paul Lawther, Head of Onecom in Northern Ireland.]