Staff from the UK offices of Onecom helped raise more than £2,000 for the mental health charity MIND with a sponsored run.
Workers from across the business took part in the event on Thursday June 29th as part of ongoing celebrations for the company's 15th birthday.
In total 114 members of staff from across Onecom's 12 regional bases raised £1,281 for MIND, each running a mile-long route around the office where they are based. A further £1,000 was donated by Onecom's management to top up the donation.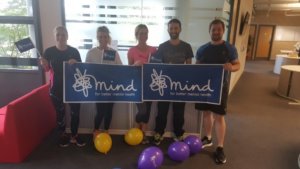 MIND was picked by employees in a company-wide poll as their chosen charity to support in 2017. The event was the first of several fundraisers planned for Onecom's 15th year under the banner of the newly-launched Onecom Foundation.
Aaron Brown, Chief Operating Officer at Onecom, said: "This was a great way to celebrate our birthday and have some fun while bringing people across the business together for a common cause.
"We're pleased that we have raised a significant amount for MIND and will continue to support the charity with more fundraising activities in our offices around the country during the coming year."
Onecom is the UK's largest independent business telecommunications provider, operating throughout England, Wales and Northern Ireland from 12 regional offices, including London, Cardiff, Southampton, Plymouth, Leeds, Telford, Norwich and Brighton.
Recently Onecom was named Unified Communications Dealer of the Year in the Mobile Industry Awards 2017. It also won Customer Service Team of the Year in the 2017 Comms Business Awards, and is nominated in the Workplace Wellbeing category of the Irish News Workplace and Employment Awards.
The company manages over 325,000 mobile connections, delivering communication services and unified solutions across fixed line voice, connectivity and cloud computing to some of the UK's most dynamic companies.
Onecom was voted Vodafone Platinum Partner of 2011, 2012, 2013 & 2014. In 2015 and again in 2016, Onecom was named Vodafone's Total Communications Partner – the network's highest accolade. It is currently Vodafone UK's largest enterprise partner.
Pictured: Staff at Onecom's Whiteley and Leeds offices.
---
Telecoms are a core part of every business. Talk to Onecom on 03300 24 00 00 or visit onecom.co.uk.