Staff from leading business communications provider Onecom supported hundreds of people who braved the cold in a huge Sleep Out event to raise money for homeless young people.
Volunteers from Onecom's Cardiff office were on hand to offer supplies and support as 280 people bedded down at Cardiff City Football Stadium in aid of the leading Welsh charity Llamau, which is dedicated to ending youth homelessness.
Onecom was a key sponsor of the event, described as the largest challenge of its kind ever to take place in Wales. Llamau is a customer of Cardiff-based The Word, now part of Onecom.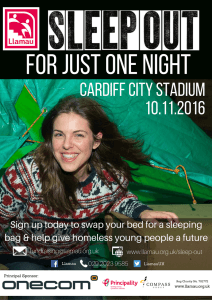 Account director Luke Williams and Platinum Support staff member Rhianwen Phillips were at the stadium from early evening until the early hours of the morning to support those who took part overnight on Thursday, November 10.
Onecom marketing assistant Ellie Swain helped Llamau produce marketing materials and organised "I Survived Sleep Out" T-shirts for all those who completed the challenge.
Each person that took part in Sleep Out built their own shelter from cardboard donated from Panasonic Manufacturing, and were challenged to raise £250 each to fund the services that Llamau offers.
Other sponsors for the event were Principality Building Society, Y Prentis, Compass and Cardiff City Football Stadium.
Thanking all those who participated, Llamau Chief Executive Frances Beecher said, "We can't believe how popular this year's Sleepout has proven to be and we have been blown away by the level of support for the event.
"Youth homelessness continues to be a huge problem in our society and Llamau is committed to ending homelessness for good. We are amazed with the people who decided to sleep out overnight to raise money for us!"
Pictured: Luke Williams and Rhianwen Phillips of Onecom at the Llamau Sleep Out.