Onecom staff will be raising funds for the Countess Mountbatten Hospice Charity after selecting it as their chosen good cause for 2018.
Employees at Onecom's Hampshire headquarters and offices around the UK picked the charity, which raises funds for the Countess Mountbatten Hospice in West End, Southampton, after being asked to nominate causes close to their hearts.
The telecommunications company's 410 staff will now be tasked with coming up with ideas for fundraising challenges in support of the charity. Last year they raised £6,000 for Onecom's 2017 chosen charity, Mind.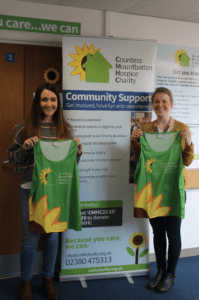 Countess Mountbatten Hospice helps almost 3,000 patients and their families each year, offering nursing and medical care, emotional and practical support, welfare advice, therapies and creative activities.
Darren Ridge, CEO of Onecom, said; "Our staff are very engaged with their local communities and many of them are aware of the incredible work of the Countess Mountbatten Hospice Charity through friends and family.
"We wanted to give staff a free choice on which charity they wanted to support through 2018, and the hospice was clearly an emotional choice for many. We are now setting our teams the challenge of raising as much money as they can – and we know we will have a lot of fun along the way."
Lorraine Pink, Head of Fundraising at the Countess Mountbatten Hospice Charity, said: "Without our supporters, we would not be able to help the thousands of patients and families who rely on our services each year. We are very grateful to Onecom and its staff for their support throughout 2018."
---
Picture caption: Parysa Hosseini-Sech (left), head of Human Resources at Onecom, and Jenni Fradgley, an HR Coordinator at Onecom, visit the Countess Mountbatten Hospice in Southampton.