Giant Samsung LED screens and leading-edge Wi-Fi technology are to be installed at The Ageas Bowl, creating the first Samsung fully connected stadium in the UK, ahead of the commencement of the new season.
The Ageas Bowl will partner with technology giant, Samsung and Evolve AV, part of the Hampshire-based Onecom group of companies, in a deal which will see the venue become a showcase for Samsung's leading-edge technology.
The venue will see two new full HD 1080p resolution replay screens, totalling 120 sq. metres, installed in the coming weeks, giving fans an excellent viewing experience from any seat within the stadium as well as providing a new and improved integrated scoreboard system. The project is planned for completion by the end of April 2018.
The connected screens are the first of their kind to be sold in the UK – and together with secure, high speed wireless networking, will greatly enhance the fan experience, enabling real-time engagement, competitions and sponsorship opportunities as well as replays and stadium information.
This new and improved internet connectivity capacity will be available to use thanks to more than 200 wireless access points strategically placed across the venue, allowing the potential for a raft of new technologies to then follow in the coming years.
The Ageas Bowl Chief Executive, David Mann said: "The Ageas Bowl has a track record of innovation, and this partnership with two industry leading organisations will enable us to lead the way in the development and use of new technology and will have a hugely positive impact on the match day experience."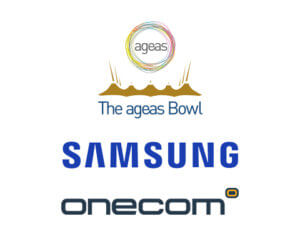 Ben Holmes, Head of Display at Samsung UK said: "Samsung is delighted to partner with The Ageas Bowl to transform this site of sporting history to a world-class connected stadium, designed to create a welcoming environment for cricket fans and sports enthusiasts."
Onecom Chief Executive Officer Darren Ridge, who launched Evolve AV last year to focus on the delivery of full-service audio-visual solutions, said: "These high-profile screens and the associated network capabilities were Evolve AV's response to The Ageas Bowl's challenge of increasing fan engagement and helping it realise its ambition to be a world-class sporting venue.
"Thanks to our close relationship with Samsung, we were able to advise on and source technology which meets those goals and allows for continued expansion at The Ageas Bowl and innovation in the future."
These innovations arrive at one of the UK's most exciting venues – one which already comprises the stunning 171-bedroom Hilton at the Ageas Bowl hotel, BEEFY'S Restaurant, Boundary Lakes Golf Course, Lakeview Sports Bar and luxurious eforea spa, alongside its established repute as an elite international sports stadium and the home of Hampshire Cricket.
These developments will be of particular interest to fans attending the Fourth Test Match between England and India at The Ageas Bowl this August, as well as those taking in all the thrills sure to be in store throughout Hampshire's 2018 T20 Blast campaign.
Tickets for all 2018 fixtures at the Ageas Bowl can be purchased online via www.ageasbowl.com, over the phone on 0844 847 1863 or in person from the Ageas Bowl Ticketing and Membership Office during normal working hours.
Situated an hour or less away from London, Brighton, Portsmouth and Reading, the Ageas Bowl is easily accessible for anyone living in the South of England. With excellent transport links from all major stations in the area, as well as a Park & Ride Scheme, it couldn't be easier to get to and from the venue.
---
Onecom, which has headquarters in Hampshire and offices around the UK and Northern Ireland, is the UK's largest independent business telecommunications provider, operating from 12 regional offices, including London, Cardiff, Southampton, Plymouth, Leeds, Telford, Norwich and Brighton.
The company currently manages over 325,000 mobile connections, delivering communication services and unified solutions across fixed line voice, connectivity and cloud computing to some of the UK's most dynamic companies.
Onecom was voted Vodafone Platinum Partner of 2011, 2012, 2013 & 2014. In 2015, 2016 and again in 2017, Onecom was named Vodafone's Total Communications Partner – the network's highest accolade for partners in its Partner Programme. It is currently Vodafone UK's largest partner.