Dad-of-three Tony Hewitt is running the London Marathon to support a cause close to his heart, with support from telecoms provider Onecom.
Tony, 44, a painter and decorator from Port Solent, will run the 2018 Virgin Money London marathon on behalf of the Rainbow Centre in Fareham. The centre supports children with cerebral palsy and adults with multiple sclerosis, Parkinson's, stroke and head injuries, and their families.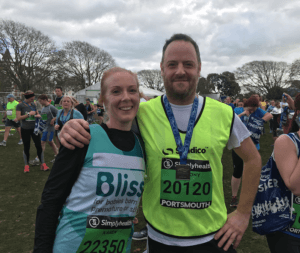 The Rainbow Centre has nine entry places in the London Marathon, which are given to runners who pledge to raise £1,500 for the charity – and Tony is already £500 nearer his target thanks to sponsorship from Whiteley-based telecommunications specialists Onecom.
"I saw a post on Facebook which said the Rainbow Centre had one place left for the London Marathon," said Tony.
"It's something I've always wanted to do, but never thought I would have the opportunity. I thought it would be perfect if I could run the marathon and help the Rainbow Centre at the same time."
Tony knew of the centre through his girlfriend, Tracy Gordon, whose son Ollie, 13, has cerebral palsy. Tony arranged to go and look around the centre to find out more and, after a moving tour where he met children and staff, he agreed to run the marathon for them straight away.
"I understand what needs these children and their families have," Tony added: "The Rainbow Centre encourages children who require help with mobility and push them that little bit further to try and reach goals that they might not otherwise achieve.
"Some achieve things no one thought possible. Families can go there as well to meet other parents and children, and that support and understanding is crucial."
With the goal of raising £1,500 by June, Tony approached Darren Ridge, CEO of Onecom.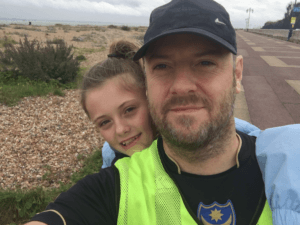 "I've known Darren for years – first through work, and then as a friend," he said. "We set up a local kids' football academy together around three years ago, which trains both primary school boys and girls.
"Onecom sponsored me to do the Great South Run in October, which I ran for the Oakley Waterman Caravan Foundation in Gosport, which provides respite for families with children who have life-threatening illnesses.
"We raised around £400, and running that 10k for such a good cause gave me a taste for it. Onecom was the natural choice when I was looking for support with the London Marathon.
"Anything that comes along that I'm involved with, Darren is a big supporter. It's fantastic to have someone like him on your side."
Darren Ridge said: "I've known Tony for years, and Onecom is proud to offer its support to his fundraising efforts. The Rainbow Centre is a fantastic cause, and we wish Tony the very best of luck in the London Marathon."
Onecom is also the main sponsor for a 5k Port Solent Rainbow Run, which Tony is planning for March 25 to further boost fundraising.