An environmentally friendly 'smart bin' and an app to help busy families with household chores were the winning ideas from students in a Dragons' Den-style competition run by Onecom with Havant Academy.
Onecom CEO Darren Ridge returned to the Hampshire school, where he was a pupil 40 years ago, to judge the 'Predict the Future' challenge.
He was joined by his wife Maria, a jewellery designer, his business partner Aaron Brown and Onecom Mobile Product Manager Emma Ward.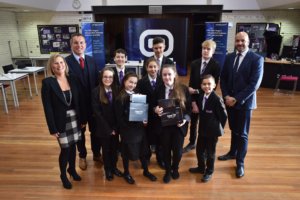 Pupils had been working hard to develop ideas based around the Internet of Things, a Onecom specialism which involves the use of smart devices connected by high-speed internet.
They had developed their concepts with the help of teaching staff at the Academy, and a visit from Emma along with Graham Doe, head of IoT at Onecom, halfway through the project for mentoring and support.
On the day of the final, judges heard the students pitch their ideas ranging from a fashion app that could choose an outfit for any occasion to a car controlled by a Virtual Reality headset.
Two winners were chosen on the day – Kaitlyn Wilson's Handy Household app, which reminded users about chores and tracked food stocks to help reduce waste, and a 'smart bin' concept developed by April Bushnell which encouraged users to recycle by awarding points and vouchers.
Kaitlyn and April received the competition prizes of a Galaxy S8 smartphone with Virtual Reality headset and controllers.
Darren and his fellow judges were so impressed by all of the entries that they also awarded a mini drone with camera kit to all the pupils who took part.
Following the pitches, Emma demonstrated some of the cutting-edge technology that Onecom is now working with, including a computer that projects a display on to any surface, Virtual Reality headsets and a robot vacuum cleaner.
Darren, who was a pupil at the school in Leigh Park, Havant, when it was known as Wakefords in the 1970s, first launched the competition in November to give something back to the community he grew up in, and to help find young people who could become future Onecom team members.
He said: "When we launched this competition, we had no idea how successful it would be; we've been bowled over by the pupils' enthusiasm and ideas.
"I have no doubt there are future app developers and entrepreneurs here.
"These young people have shown that they understand the concepts at work and the limitless potential of the Internet of Things to transform the way we live and work in the future."
Victoria Adams, Head of School at Havant Academy, said: "We are very grateful to Darren for coming back to his former school and inspiring the students here.
"The competition has created a huge buzz. It's shown how somebody from a background similar to theirs can go on to achieve great success through hard work and innovation.
"The pupils are delighted with their prizes, and have learned a great deal through this project about technology, business and the process of pitching."
Onecom would like to say well done to all who took part and thank you for the exciting ideas presented.
---
Onecom, which has headquarters in Hampshire and offices around the UK and Northern Ireland, is the UK's largest independent business telecommunications provider, operating from 12 regional offices, including London, Cardiff, Southampton, Plymouth, Leeds, Telford, Norwich and Brighton.
The company currently manages over 325,000 mobile connections, delivering communication services and unified solutions across fixed line voice, connectivity and cloud computing to some of the UK's most dynamic companies.
Onecom was voted Vodafone Platinum Partner of 2011, 2012, 2013 & 2014. In 2015, 2016 and again in 2017, Onecom was named Vodafone's Total Communications Partner – the network's highest accolade for partners in its Partner Programme. It is currently Vodafone UK's largest partner.
---
Pictured (top): Back row: Darren Ridge (CEO, Onecom), Gideon Triskinski, Alfie Hayward, Davis Hvostous, Aaron Brown (COO, Onecom). Middle row: Emma Ward (Mobile Product Manager, Onecom), Lauren Keet, Tegan Rowsell. Front row: Kaitlyn Wilson, April Bushnell, Rahees Summers.
Pictured (bottom): Emma Ward (Mobile Product Manager, Onecom) demonstrates new technology to students.