Apple events are always big news around the globe as the world waits to see what the company's engineers and innovators have up their sleeves this time round.
This year was no exception as the stunning new iPhone 12 range was officially unveiled. The headline innovation is speed as the range uses superfast 5G technology for the first time. But that's not the only reason to get excited about the iPhone 12, iPhone 12 Pro, iPhone 12 Pro Max and iPhone 12 mini.
As we prepare to take pre-orders for the iPhone 12 Pro and iPhone 12 from 1pm Friday, October 16th, here are 12 reasons why we can't wait to share them with you.
They are superfast
Every iPhone in the new range is 5G enabled1. Whether you're a business or personal user – or a bit of both – this enables the ability to download huge files on the go and stream high-quality HDR video. All iPhone 12 products are powered by Apple's A14 Bionic – the fastest chip in a smartphone, which enables snappy performance to go along with those incredible data speeds.
They're durable
With phones as beautiful as these, you'll want to look after them. However, slips and drops can happen. Apple has pulled out all the stops to make the iPhone 12 range as durable as possible, using Ceramic Shield technology to toughen up the glass on the front. According to Apple's research, this gives 4x better drop performance than the previous models2. All models in the range are splash, water and dust resistant3.
They mean secure business
The iPhone 12 range is a powerhouse no matter what you need to use it for. Of course, it's a fantastic entertainment device, and those amazing screens are great for watching videos, playing games from the App Store and from the Apple Arcade service, and sharing on social media.
But they can be serious too, and work hard for any mobile-first business. Apple is hot on privacy, keeping your data secure through a three-tiered security system and data encryption at any time. The App ecosystem grants access to Apple's own suite of over 230K professional apps, as well as built-in features such as Handoff, Continuity Camera or AirDrop for secure file sharing. Whether you are bound to an office or working from home, today's iPhones are equally efficient with the usual business package of Outlook, Microsoft Teams, Skype and Zoom.
They're beautiful
Apple is well-known for making products that look stunning – and the iPhone 12 is no exception. The new design takes some of its cues from iPhones of the past, including the flat-edged design first seen in the iPhone 5, and more recently in the premium iPad Pro and iPad Air range. In fact, any of the new iPhones make a perfect companion to an iPad Pro or iPad Air. The dazzling display, which goes pretty much from edge to edge of all of the models, is a beauty to behold.
They're colourful
It's not a case of black or white anymore! When it comes to the iPhone 12, there will be a hue for you. The iPhone 12 Pro and Pro Max come in gold, silver, graphite and red.
Meanwhile, the iPhone 12 comes dressed in black, white, red or green, just like the options available for the iPhone 11 – but there's also a new Pacific Blue colour which has really caught our eye – it's a rich, deep colour and we're expecting it to fly off the shelves.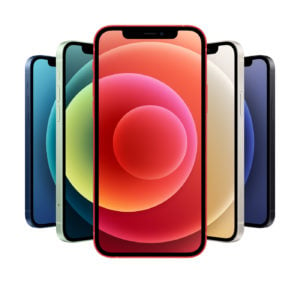 There's a model for every pocket
No matter what kind of user you are, there is an iPhone 12 that will work for you. For those who like a larger screen and top-level performance, the iPhone 12 Pro Max, with a 6.7-inch display, is the one to pick. You get the same performance in a smaller form factor with the iPhone 12 Pro, with a 6.1-inch screen. These models feature a new Pro camera system – more on that later.
The iPhone 12 offers a 6.1-inch display and an advanced dual camera system. And for those who love iPhones but long for a more pocket-sized version, the new iPhone 12 mini is the one to pick. It has all the performance of the iPhone 12 but in a smaller size – in fact, it's the world's smallest, thinnest and lightest 5G phone and boasts a 5.4-inch display. Cute!
Stunning displays
The new iPhones all feature a Super Retina XDR display. This time around, the new design with flat edges enables eye-popping screens to reach right to the edge of the device, giving the best experience yet when viewing photos or watching video on an iPhone. The displays have superior colour, brightness and contrast – colours are outstanding, there are deep blacks and a high pixel count – there are more than 3.4 million pixels in a 12 Pro Max display that makes for super-sharp images.
Incredible photography
Most of us don't carry a camera anymore – apart from the one in our smartphone. Apple has made huge strides in smartphone camera technology, and this reaches its peak in the iPhone 12 Pro and Pro Max. The new Pro Camera system offers a 4x optical zoom range and enables incredible low-light photography – perfect for night shots. Exclusive to the iPhone 12 Pro and Pro Max is a new image format called ProRAW, which offers incredibly detailed and powerful photo editing capability.
Stunning snaps also come as standard with the iPhone 12 and iPhone 12 mini, which offer a full suite of powerful photography features including Night and Portrait modes, filters and full editing features.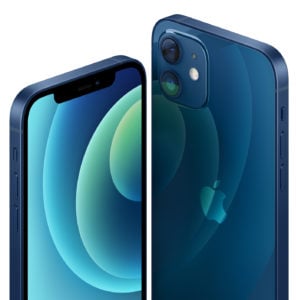 You could be the next Spielberg but with a smaller budget and lighter kit
If it's video you're after then iPhone 12 Pro has you covered – it's practically a movie studio in your pocket, offering Cinema-grade Dolby Vision recording, editing and playback. Apple's iMovie software lets you take charge of a full editing suite, and there are third-party apps to suit every level of film-making knowledge, from quick TikTok clips to the epic blockbuster you always knew you had in you.
As Gok Wan would say: accessorise!
New to the iPhone 12 range is MagSafe – a range of accessories which let you make your iPhone your own. This is a system of magnets that lets you attach cases and accessories such as wallets to the back of the phone with a satisfying snap! A wireless charger – not included in the box – uses this system, and expect to see an array of charging docks including ones that let you charge your phone, AirPods and Apple Watch all at the same time. Snap on and off car mounts, desk stands and more – it's as easy as that!
Widgets and more with iOS14
All the iPhone 12 range uses the brand new iOS14 operating system. This is the most flexible iPhone software ever and no longer limits users to rows of icons and folders. New Widgets can be easily dragged onto the screen to make it as unique as you are. You can have news updates, weather, your calendar, favourite photos and much more in plain view whenever you need them.
You don't have to wait long!
If that's convinced you that an iPhone 12 is for you, the good news is that you don't have to wait long! You can pre-order the iPhone 12 Pro or iPhone 12 from Onecom from 1pm on Friday, October 16th. Other models will be hot on their heels at the beginning of November.
To order, contact us on 01952 466645.
1 Data plan required. 5G is available in select markets and through select carriers. Speeds vary based on site conditions and carrier. For details on 5G support, contact your carrier and see apple.com/iphone/cellular.
2 Claim based on iPhone 12 Pro Ceramic Shield front compared with previous-generation iPhone.
3 iPhone 12 Pro is splash, water, and dust resistant and was tested under controlled laboratory conditions with a rating of IP68 under IEC standard 60529 (maximum depth of 6 meters up to 30 minutes). Splash, water, and dust resistance are not permanent conditions. Resistance might decrease as a result of normal wear. Do not attempt to charge a wet iPhone; refer to the user guide for cleaning and drying instructions. Liquid damage not covered under warranty.