Welcome to our mini-series, where we hand over to an Onecom customer to tell their story of 'business as unusual' during the on-going pandemic. We will hear how they adapted operational and customer service models during lockdown, whilst continuing to deliver simply brilliant customer experiences.
Our fifth success story comes from Onecom customer Inspiration Healthcare, a global supplier of medical technology for critical care.
Inspiration Healthcare Group plc is a global supplier of medical technology for critical care, operating theatre and home healthcare applications, with a mission to provide high quality innovative products to patients and caregivers around the world that help to improve patient outcomes and efficiencies of healthcare organisations with patient focused customer service and technical support.
As the pandemic took hold in the UK back in March, Inspiration Healthcare recognised that the demand for critical care services and therefore medical technology was likely to increase. They needed to be ready to support the NHS not only with life saving equipment such as ventilators, but 24/7 virtual troubleshooting and on-demand maintenance services.
Neil Campbell, CEO at Inspiration Healthcare talked through how they were able to adapt their existing One Net Mobile solution, setting up a dedicated phone number for front line workers to access vital troubleshooting and support services specifically for ventilators as they worked to care for seriously ill, or end-of-life patients.
"As one of the few UK suppliers of critical care technology to the NHS, it was vital that our supply chain remained uninterrupted and our distribution services operational. On top of that, we had to rethink our strategy in line with new social distancing guidelines and the obvious avoidance (where deemed non-essential) of sending engineers for physical visits when it comes to routine maintenance across all the hospitals we supply to."
Neil continued, "Onecom were quick off the mark to set up a dedicated line for customer support services used by nurses by bedside to get technical or product support, for example if an alert had been triggered on a ventilator. Making the move to virtual training and troubleshooting was absolutely critical for us to continue to support critical care units, which range from premature babies through to the worst affected coronavirus patients.
"As you can imagine, there is a particularly short window of opportunity to provide a ventilator fix, so a fast response from our customer service team is non-negotiable. The dedicated line is uncontended, allowing us the speed of response required and the integration between landline and mobile devices means the team can answer a call from any location, on any device. So far, call volumes have been reassuringly low and the line has very fortunately remained a part of an agile and robust business continuity plan – but the very fact it's in place gives peace of mind and assurance that Inspiration Healthcare have a suitable strategy in place for peaks in service.
"When looking at the future of the medical technology industry, we have to be certain new entrants to market are meeting stringent regulatory guidelines, especially when it comes to unprecedented demand such as we've seen. It's time for the supply chain to digitise in order to improve cost, agility and inventory – the time to work reactively has passed and we must as a collective, do all we can to prepare for future pandemics or other unforeseen circumstances."
Neil ended the conversation by adding, "Outside the medical community, our brand is mostly unheard of, but you can be reassured that we are working hard to provide high-end technology. The pandemic has shone the light on our frontline workers and the brilliant work they continue to do under ever-mounting pressure. Knowing we are part of that support cycle is recognition enough."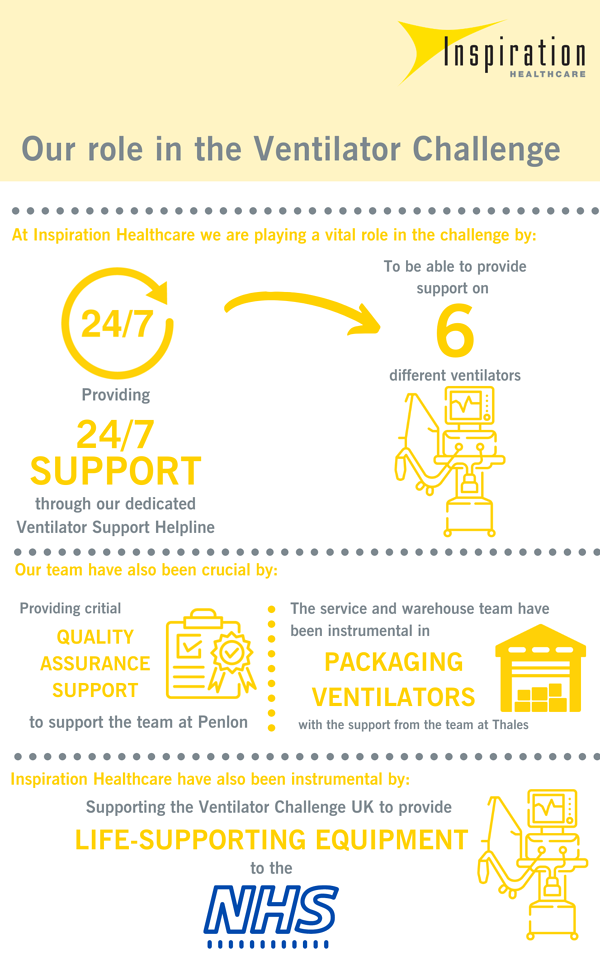 As a reminder from a previous Business as Unusual story, if you, or someone you know are struggling with mental well-being, or need some additional support - the British Red Cross have a dedicated coronavirus helpline set up ready to lend a friendly ear. Access more information here.
To understand how Onecom could help your business deliver simply brilliant customer experiences and provide operational agility, chat to us today. We're proud to be supporting businesses throughout the pandemic with several free of charge remote working solutions, as well as working on long-term future success roadmaps in preparation for a new way of working.
TOPICS: COVID-19