Enterprise mobility management solutions have always been a secondary concern for small businesses – a nicety rather than a necessity. But not anymore. Times are changing and fast. Remote working and increased flexibility are now paramount for small businesses going forward, to attract new talent, improve current employee wellbeing, and be there for your customers no matter what.
But adjusting to remote work as the 'new normal' isn't easy – especially for those businesses with little experience in the area. Thankfully, with the right team to support you, making this shift doesn't have to be difficult.
What's driving the shift to remote working?
The pandemic of 2020 is changing the way businesses operate. The sudden impact of the nationwide lockdown forced businesses to either adapt or sadly feel the impact of doing nothing at all. And now, months on from total lockdown, many workers have adjusted and found their work/life balance to be in much better shape than it ever was working fulltime in the office.
In fact, a study by the University of Strathclyde found that fewer than one in ten people want to return to the office full time in some capacity going forward and 78% of respondents said they would prefer to work in the office for only two days or less.
Whether or not you want your employees to return to the workplace fulltime is up to you to decide. But either way, employees will have their preferences on how, where, and when they work. And the fact is, with the right tools, they needn't be in the office to stay productive and provide outstanding customer service.
What's needed to truly harness remote working?
Remote working solutions may be here to stay, and that means your business needs to adapt to accommodate. This means investing in the right tools and equipment to empower your staff to stay productive and connected while working from home.
Here's a rundown of some of the must-have software and hardware you need to truly get the best from your staff while working remotely.
Office 365
It's likely that your business already uses Office 365 for emails and documents, but when working remotely, it really comes into its own.
With Office 365 accounts, your team members can:
Collaborate on documents, presentations, and spreadsheets in realtime
Stay connected with messaging and video chats on Microsoft Teams
Keep everything safe, secure, and accessible from any device via OneDrive
Office 365 is also really easy to manage as admins can change passwords, limit access, and create new users in just a few clicks. It's a must for remote teams.
VoIP and enhanced integrations
Much has been said about voice over internet protocol (VoIP), the technology that allows phone calls to take place over the internet. And it's no surprise why. It offers better value for money, increased audio fidelity, smarter call monitoring, and more.
When working remotely, VoIP comes into its own. Your customer-facing staff can simply log into the phone system from their laptop without installing any additional hardware.
Services like teams direct routing and Vodafone One Net make hosted VoIP solutions even more useful. They let you link your on-premise phone system to Microsoft Teams and combine your landline and mobile numbers respectively.
These services are particularly useful for smaller businesses where employees juggle multiple roles. For example, you could advertise a 'general enquiries' telephone number and then route calls through to whichever member of the team is available to take that call. When it comes to new business enquiries, this means no call goes unanswered, and no new business slips through the net.
Data security systems
Protecting your business and customer data is always important, but when working remotely, doubly so. With so much information being accessed from so many different locations and devices, it's easy to lose track of security.
Thankfully, things like unified endpoint management (UEM) can set your mind at ease. It sounds complicated but, put simply, UEM means your workforce can access business data from their personal devices while keeping their own data segregated.
It also allows you to control who has access and keep track of who has accessed what data when, leaving a paper trail should anything go wrong.
5G mobile hotspots
We've all been there. You have a virtual meeting starting in five minutes, so you straighten your shirt, make a cuppa, and sit at your desk ready. Then the Wi-Fi decides it's the right time to play up. Nightmare!
More than just being frustrating, poor home networks can cost you business.
That's why 5G mobile hotspots are an essential part of the remote working toolkit.
In the past, mobile hotspots required additional hardware to operate. But today, most modern smartphones have the capability baked in. This means that with a tap of a finger – and the right SIM plan – your remote-working staff can keep connected even when their home network drops out.
On top of this, next-generation 5G business broadband is rolling out across the UK, bringing with it blistering internet speeds. This means your team can join those meetings in pixel-perfect clarity with crisp-as-winter-mornings audio, no matter what their Wi-Fi is up to.
A shift in mindset
Unlocking the potential of remote working takes more than just the right tools – it requires a shift in mindset. More energy has to be spent keeping team members connected, ensuring productivity levels don't take a hit, and securing business data.
But when you do adapt, your business and staff will reap the benefits of a better work/life balance, greater productivity, and so much more. Take the first steps towards unlocking the potential of remote working today. Talk to Onecom.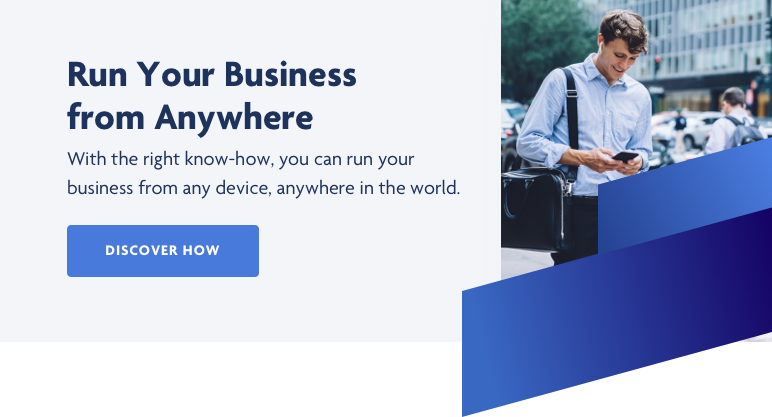 TOPICS: Remote Working