Staff at Onecom have stepped up to a new challenge as the company partners with Fitbit as part of its ongoing commitment to staff well being.
Employees at the business communication specialist's Hampshire headquarters and its offices around the UK are taking part in a company-wide fitness challenge using wrist-worn Fitbit step counters to monitor their daily activity levels.
Onecom staff can purchase Fitbit devices at very heavily discounted rates thanks to a corporate arrangement with Fitbit. Onecom is bringing the cost of the devices down further by contributing 50% of the discounted price to every employee who wants one. So far, more than 150 team members have signed up to the scheme, which was officially launched at Onecom House in Whiteley, Hampshire, on Friday (October 6).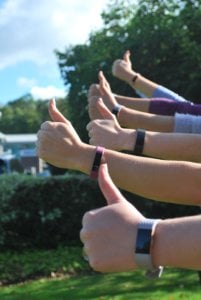 People across the business will now compete in a three-week "Workplace Race" which will see teams compete to be the most active by racking up the largest number of steps.
The team with the largest collective step count on Friday, October 27 will be named champions, with prizes on offer for the five individuals across Onecom with the highest number of steps counted.
Aaron Brown, Chief Operating Officer at Onecom, said: "We have recently launched a range of benefits for staff in a scheme we're calling Employee Plus, and a focus on well being is a huge part of that commitment.
"This Fitbit scheme is a bit of light-hearted fun, but it also underlines the benefits of working together as a team and keeping active to our overall levels of performance and productivity.
"We've already seen a huge buzz across the business, along with some good-natured competitiveness, as we launch into our first Fitbit challenge."
Onecom's Employee Plus scheme was launched as the company marked its 15th birthday earlier this year. It is made up of four fundamentals – Onecom Active, Onecom Academy and Onecom Rewards deliver training and development, discounts on golf and gym memberships and personal training, enhanced free-time opportunities and money-saving offers on goods and services, whilst Onecom Foundation provides the opportunity for staff to participate in fundraising for good causes.
---
Onecom, which has headquarters in Hampshire and offices around the UK and Northern Ireland, is the UK's largest independent business telecommunications provider, operating from 12 regional offices, including London, Cardiff, Southampton, Plymouth, Leeds, Telford, Norwich and Brighton.