If you work in telecommunications, you'll have struggled to avoid the buzz coming out of this year's Mobile World Congress in Barcelona. Of course there were the expected stories about Internet of Things (IoT), connected cars and the rather nostalgic return of the world-favourite Nokia 3310 handset.

For me though, the most exciting thing to come out of Congress was actually "The rise of machines". No I haven't gone all "Terminator", but Artificial Intelligence (AI) was at the heart of many of the stands and stories that came out of the show.

Although Watson, IBM's 'mega brain' was being demonstrated carrying out tasks with extraordinary speed and accuracy, it was the launch of Telefonica's Aura 'chatbot' that really captured the imagination, due to its potential to revolutionise customer service. Aura will be one of the new brains behind a whole new generation of AI-based, non-text based dictation and command devices that have rapidly taken off.

Chatbots is the tag-name given to a computer programme designed to simulate conversation with human users over the Internet, without the need or reliance on an actual human user.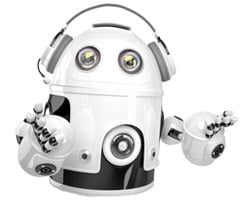 It's important to embrace this technology, not to fear it. We're already using it on a day-to-day basis. Why queue at an airport when you can check in via a terminal? Why wait to speak to someone when you just want to add a roaming package to your mobile phone? A chatbot will sort that in a couple of minutes.

You only have to look at Amazon's Alexa chatbot to realise how much of a game changer Aura will be. You just have a chat with it, whether it's asking for the weather forecast, to play music or order food.

When you chat with a next-generation chatbot, it will begin to understand you and learn from your requests, building a complete profile from the choices you make. No keyboard is needed, just the most natural method in which we currently communicate – our voice. Think of the possibilities.

Hours of holding for technical support or information from your car manufacturer or the NHS's hotline will be no more; just ask for a quick and informative answer. With the aforementioned profile building of your preferences, chatbots will only become increasingly personalised.



Talk of chatbots may sound like the end for the traditional customer service executives. However, it's the exact opposite. As chatbots are left to fix simpler issues, humans can focus on the more technical questions asked by the end-user, indicated automatically by the chatbot when it knows the request is currently beyond its knowledge. This also frees up time for employees to move into less admin-focused roles.

This new generation of skilled and highly-trained staff will have to show something that no chatbot could to a customer; empathy. Empathy with their frustrations and knowing when the customer is getting to the end of their tether.

This provides the best mix of customer service possible; chatbots that can quickly respond in multiple ways to frequently asked questions, while leaving the human brain for everything else. This level of automation all adds up to improve overall internal efficiency.

Trust me, we really have nothing to fear from chatbots, even if watching a certain 1984 sci-fi classic has persuaded you otherwise!