Unfold your world with the new Galaxy Z Series - packed with features to maximize your productivity.
Once again, Samsung has successfully raised the bar with its latest releases: the Galaxy Z Flip5 and Z Fold5. The new devices are a testament to Samsung's commitment to transforming the way businesses communicate and collaborate.
Join us as we delve into the world of the Galaxy Z Flip5 and Z Fold5, exploring their remarkable features and specifications that promise to redefine your business mobility.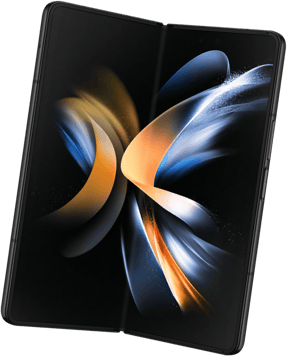 A visionary tool for business productivity. The Samsung Galaxy Fold5 offers a plethora of new features that pushes the boundaries of smartphone innovation. Seamlessly transitioning from smartphone to tablet, this device offers unmatched versatility, catering to the needs of professionals who seek the convenience of two devices in one – a tablet and a mobile. The Galaxy Z Fold5 offers a range of upgraded specifications:
Main Display: Immerse yourself in a stunning 7.3-inch Foldable Dynamic AMOLED 2X display, offering 1768 x 2208 pixels of visual brilliance.
Cover Display: Interact effortlessly on the 6.2-inch Dynamic AMOLED screen with 832 x 2268 pixels, perfect for quick business tasks.
Processor: Experience next-level performance with the Qualcomm Snapdragon 888 (5nm) chipset.
RAM: Enjoy lag-free multitasking with 12GB of RAM at your disposal.
Storage: Choose between 256GB and 512GB of storage to accommodate your business essentials.
Cameras: Capture every detail with a triple-camera setup, featuring a 12MP wide, 12MP ultra-wide, and 12MP telephoto lens.
Front Cameras: The 10MP wide lens (cover) and 16MP wide lens (main display) redefine selfie excellence.
Battery: The 4400mAh battery ensures a consistent power supply for your business endeavors.
Operating System: Navigate the Android 12 landscape with ease, enhanced by Samsung's renowned One UI.
Connectivity: Experience seamless connectivity with 5G, Wi-Fi 6E, and Bluetooth 5.2 technology.
Special Feature: Multi-Active Window revolutionizes multitasking, empowering you to handle business tasks like never before.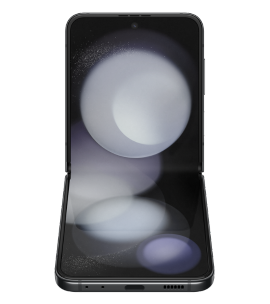 A stylish statement of innovation. The Samsung Galaxy Z Flip5 encapsulates the perfect blend of style and functionality, making a bold statement in the business world. Its compact design, premium materials, and cutting-edge technology gives you a powerful smartphone that's nearly as small as your credit card. Let's dive into the specifications:
Display: A stunning 6.7-inch Foldable Dynamic AMOLED 2X screen with 1080 x 2640 pixels, boasting vibrant colours and sharp visuals.
Processor: Experience lightning-fast performance with the Qualcomm Snapdragon 888 (5 nm) chipset.
RAM: 8GB of RAM ensures smooth multitasking and seamless app switching.
Storage: Choose from 128GB or 256GB of internal storage, providing ample space for your business files and applications.
Cameras: Capture moments in stunning detail with a dual-camera setup, featuring a 12MP wide and 12MP ultra-wide lens.
Front Camera: The 10MP front camera delivers crisp and clear video conferencing.
Battery: The 3300mAh battery keeps your business operations running smoothly throughout the day.
Operating System: Enjoy the intuitive Android 12 experience, enhanced with Samsung's renowned One UI overlay.
Connectivity: Stay connected with 5G, Wi-Fi 6, and Bluetooth 5.2 technology.
Special Feature: Multi-Active Window allows for seamless multitasking, boosting your business productivity.
Having the right tools at your disposal is vital for staying connected and productive. The Samsung Galaxy Z Flip5 and Z Fold5 hold elegant designs, powerful processors, and revolutionary features like Multi-Active Window, offering more than meets the eye. As you navigate the ever-evolving landscape of remote working, the Galaxy Z Flip5 and Z Fold5 will be your trusted devices, enabling you to adapt, innovate, and thrive like never before. Embrace the future of business mobility with Samsung and take your business to the next level.
Check out our latest Samsung Galaxy Series offers available here or visit our Samsung page to explore the full range of devices today.