The Samsung Galaxy S22 Series is here and changing the rules of what's possible with a smartphone. This bold series brings the biggest leap in a Galaxy for performance, productivity, and video creation.
Get ready for a new era of tech with Samsung's first 4nm processor, a powerful battery that will outlast your day, and night-time videos and photos as clear as day. But that's just the beginning.
Here are 5 reasons why you'll want to get your hands on the Galaxy S22 Series smartphones:
Choose from three devices
The Galaxy S22 Series comes in three models, so you can find the device best suited to you. Galaxy S22, Galaxy S22+ and Galaxy S22 Ultra all carry stand-out features and are compatible with other Galaxy devices and unlike other phones, going for the standard Galaxy S22 doesn't mean you're sacrificing performance, or power.
The Galaxy S22 boasts a 6.1" dynamic AMOLED 2X display, the latest 4nm processor and longer battery life. It's perfect for those who want to stay productive on the go. The Galaxy S22+ and Galaxy S22 Ultra have slightly bigger displays at 6.1" and 6.8", ideal if you need to open up multiple apps at once, take video calls or use for cinematic screening.
They're fast and powerful
All three of these smartphones pack a punch with a faster processor and charging capabilities. For many small to medium-sized businesses, they will be perfect for office and remote teams.
For the S22 and S22+ models, it's full stream ahead with the speed of the latest 4nm processor, long battery life, and Super-Fast Charging. The standard Galaxy S22 comes with a 3,700 mAh battery, while the Galaxy S22+ model comes with a mighty 4,500 mAh battery. Need a fast charge? The S22+ gives you an all-day battery in around 20 minutes of charging time.
With the Galaxy S22 Ultra, you can expect your battery to last more than 24 hours, more than enough for a day in the office and the commute home.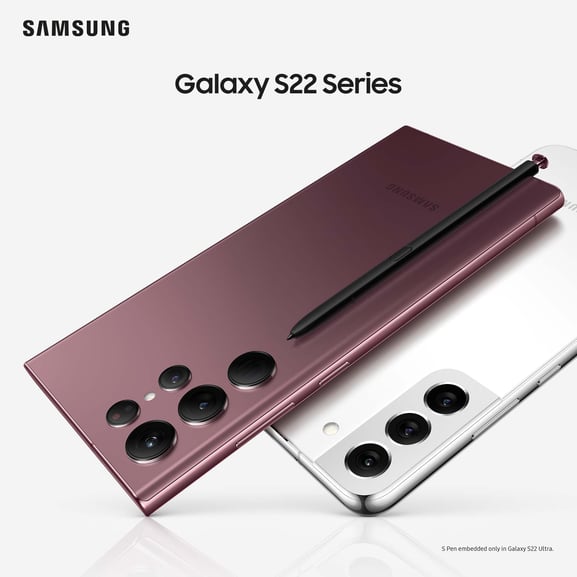 Experience evolved video calling
As well as performance upgrades, we'll see an improvement in camera quality with the latest Galaxy smartphones. The entire Galaxy S22 Series come with a triple-camera setup, that's an Ultra-Wide, Wide and telephoto camera. They each have a 12MP Ultra Wide lense, but the Wide camera gets better, the bigger the phone. Choose a Standard or Plus model for 50MP and the Ultra for a 108MP wide camera.
This takes video calling to another level. Along with improved quality, you can share your screen with ease, block out background noise and experience Quad HD resolution. If you're sharing documents your phone will also automatically choose the fastest sharing speeds to keep you connected.
Built to work anywhere
The Galaxy S22 is designed for mobile-first businesses. Whether you're working on a construction site, travelling for work, or just sitting in the office, the Galaxy S22 is more durable and stronger than ever before. All three phones come with IP68 Water Resistance and the Ultra model also has scratch-resistance Gorilla Gloss Victus+ – a glass that can survive drops from up to 2 metres – and a tough aluminium frame to keep your phone protected.
As well as anywhere, you can work anytime with the Galaxy S22 Ultra. It has revolutionary night-time cameras with Dual Optical Zooms.
Work smarter
The Samsung Galaxy S22 Series is designed to help you work smarter too, making a perfect addition to your Samsung ecosystem. You can unlock your phone to take calls and check messages with the Ultrasonic Fingerprint. Plus, the S22 Ultra device comes with an embedded S-Pen. It's the first Galaxy S Series of smartphone to have an S-Pen embedded into its sleek design while letting you use Air Actions to easily open files and control videos with a flick of the wrist!
Pre-order for all three smartphones is now available from Onecom! The Galaxy S22 Ultra will go on general sale from Friday 25th February, and the Galaxy S22 and S22+ models from the 11th of March.
Interesting in learning more? visit our website for information on the Galaxy S22 Series, or give us a call on 0330 1355 241.