The Samsung Galaxy S23 series is here, and just like in previous years, there are three models to choose from. Packed with all the tools, applications, security and support you need for your business to thrive, the Galaxy S23, S23+ and S23 Ultra are the most impressive Samsung devices yet.
Each device offers something different to suit your way of working, but they all empower employees to work to their full potential, wherever they are, whenever.
To help you decide, we've done the hard work already – read on to learn some of our favourite features of these new devices.
Collaborate across devices
Work seamlessly across devices with the Samsung Galaxy S23 series. Samsung's Multi Control, which connects mouse and keyboard functionality between a Samsung Galaxy PC and tablet, now extends to Galaxy S23 Ultra, Galaxy S23+ and Galaxy S23 for the ultimate flexibility between devices, so you can take your work to home, and on the road.
Enhanced text usability makes it easy to copy and paste text, like URLs, from one device to another so you can pick up activity on another device.
Find new ways to tackle tasks with the Galaxy S23 Ultra's new, improved embedded S Pen. Turn handwriting text to type with Google apps for quick replies. Sign documents, use your screen as a palette to sketch ideas or turn your S Pen into a presentation tool with Microsoft Office apps. With S Pen you've never had more freedom to work flexibly.
What's more is with Google Meet paired with the embedded S pen and Samsung notes, you can now make calls even more collaborative. Google Meet live sharing allows participants to co-edit documents at the same time, rather than just viewing a shared screen.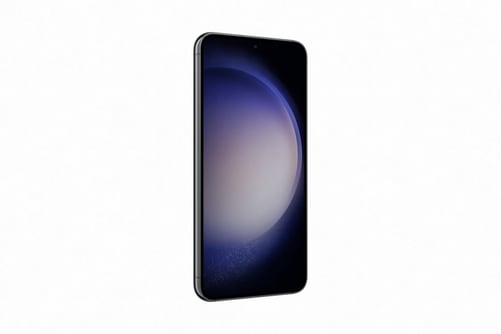 Bring incredible detail to your workday
Create, capture and show your work at its best with the most advanced camera in the Galaxy series. The Galaxy S23 Ultra boasts a new 200MP Adaptive Pixel sensor that captures epic moments with incredible precision. And because selfie cameras are more important than ever in how we communicate, all three phones in the S23 series introduce a 12MP camera with fast autofocus and Super HDR. They are able to distinguish hair, eyes and clothes in day or night, for the perfect shot.
Get closer to your work with a 10x optical zoom and 100x space zoom. Plus, improved integration with third party apps means you can easily upload content to Teams or your business's social feeds for a complete end-to-end experience.
More power for smarter, faster working
Work efficiently anywhere with the most powerful chip in the Galaxy range. The Qualcomm Snapdragon 9 Gen 2 processor boosts the processing abilities of the Galaxy S23 series by about 30% compared to the Galaxy S22 series.
With the Samsung Galaxy S23 Ultra, your employees can work how and where they want for longer with a power packed 5,000mAh battery. With its own cooling, this device enables you to run multiple apps at once. And should you need a boost, the 45W Super Fast Charging means you'll never be caught short.
The base Galaxy S23 now packs a 3,900mAh battery pack with 25W wired and 15W wireless fast charging support, while the Galaxy S23+ gets a 4,700mAh battery with 45W wired and 15W wireless fast charging support.
For an added bonus, 5G connectivity and Wi-Fi 6E lets you work on and share documents quicker. Join team meetings minus the buffering — just crisp, clear catchups. And when it comes to sharing, you can avoid painful uploads and lagging.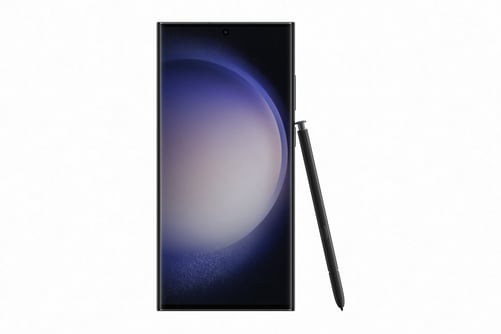 Durable for working on the go
The Galaxy S23 Series are the most durable devices yet – perfect for in the office, out of office, at home and on the go.
These smartphones are the first to feature Corning® Gorilla® Glass Victus® 2, and an Armour Aluminium frame, offering durability for long-term use and are built with an average of 22% recycled content. They are resistant to scratches and damage, providing extra peace of mind for heavy workloads.
Plus, every Galaxy S23 smartphone comes in a redesigned packaging box made with 100 percent recycled paper.
Intelligent display
Content has never looked so breath-taking with the most advanced display on a Galaxy device ever. The Galaxy S23 Ultra's 6.8-inch display with Adaptive Vision Booster makes your work appear brighter and clearer – even in direct sunlight. Want to tone down your brightness first thing in the morning? No problem, Adaptive display has you covered. Plus, with Samsung DeX1, you can connect the device to a compatible monitor or TV to work across multiple screens with a PC-like experience.
1 DeX cable sold separately
Keep your business secure with Samsung Knox
You can work anywhere knowing your sensitive data is secure and protected by Samsung Knox – the defence-grade security platform built into the phones from the chip up.
With just a glance, it's easy to see if sensitive or personal data is at risk. The Security and Privacy dashboard gives you a clear view of who has access to your data and how it's being used.
For an added layer of security, the Galaxy S23 series also includes the Secure Folder feature, accessed with ultrasonic fingerprint scanner, that can be customised to provide dedicated memory for private files. Plus, a smart anti-tracking system keeps you and your employees protected online.
Spec and availability
The Galaxy S23 series comes in four nature-inspired matte hues: Phantom Black, Cream, Green and Lavender.
To see updated Samsung Galaxy S23 offers, click here.
Get in touch with our team at 0330 1355 241 to order now.