The Galaxy Tab S8, S8+ and S8 Ultra are the latest edition in Samsung's Android tablet line, designed for on-the-go business productivity.
Announced at the Samsung 'Unpacked' event alongside the brand new Galaxy S22 Series, the Galaxy Tab range are now all available for purchase.
Here's what you can expect from the S8 Series:
Boosted productivity
With three screen sizes to choose from, the Galaxy Tab S8 series is designed to let you work from anywhere, whether you're in your home office or on the go.
The Galaxy Tab S8 Ultra's large 14.6" display is perfect for multi-tasking, and its multi-window layouts are tailor-made for video conferences and note-taking. With this feature, you can display up to four different layouts on your screen at any time – you can work across multiple apps at once.
Although slightly smaller at 12.4 inches and 11 inches, the Tab S8+ and Tab S8 have the same 120Hz AMOLED display technology to offer brilliant viewing for those who need to access word documents, presentations or take notes in a meeting.
All three tabs are powered by Samsung's fasted ever tablet chip – the 4nm processor – and come with the largest memory of any Samsung tablet – that's 512GB of storage.
They use hyperfast 5G connectivity, so whether you're downloading large files, streaming video or conferencing on the go, you can always enjoy a seamless, reliable experience. And there's no need to worry about running out of power either, the Tab S8 Ultra includes a long-lasting 11,200mAh battery and 45W Super-Fast charging support, giving you full charge in under 90 minutes.
Seamless video calling
Now more than ever, we rely on tablets for video calling and streaming. The S8 Ultra tablet camera features offer a superior video calling experience, from its central 12MP ultra-wide camera to background noise reduction, background adjustments and auto-framing, which automatically pans out when more people are in shot. It also supports popular video calling apps such as Google Duo, Zoom and Microsoft Teams.
All three tablets in the S8 line have a three-way microphone with noise cancellation for high-quality audio too and quad speakers with Dolby Atmos, ensuring everything sounds incredible.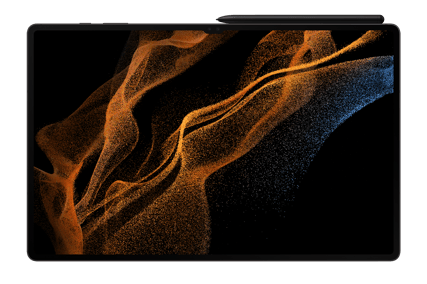 More control with the S Pen
All devices in the Tab S8 line up include the powerful S Pen, and as soon as you detach it from the back of your tablet, the Air Command menu makes itself visible so you can jump into using it. You can automatically convert handwriting into text and sync in Samsung Notes – ideal for brainstorming ideas or illustrating graphics.
If you need to control a slideshow from afar, Air Actions allow you to use gestures with your S Pen to control apps, such as flicking through slides in a presentation or zooming in on the camera.
And when your S Pen runs low on battery, just attach it magnetically to the back of your tablet to charge.
Security you can trust
The Galaxy Tab S8 Series is protected by Samsung's leading security platform, Samsung Knox, which encrypts personal data and keeps stored files secure to safeguard your device from attacks.
When you are storing any sensitive information, such as passwords or confidential documents, you can take advantage of the Secure Folder. It allows you to save private information on your tablet with a custom pin, or even your biometrics.
Integrate with the Samsung ecosystem
The Galaxy S8 Series works seamlessly with the entire Galaxy ecosystem. Work from your Galaxy Tab S8, to your smartphone and PC and back again.
If you need a second screen, the Galaxy Tab S8 can be your portable monitor. Enhancements to Samsung DeX, which takes the Galaxy S8 from tablet to desktop mode, now allows mirroring and transparent app windows when you want to share your tablet's screen on another display.
Quick Share is built to enable collaboration among teams. Share photos, videos and files between devices twice as fast as fast. And thanks to Auto Switch, you Galaxy Buds will automatically pair from your Galaxy Tab S8 to your Galaxy S22, so you can move between devices, whether you're on a call or just listening to music while you work.
Exceptional support
Samsung are renowned for giving users the best possible experience, and this doesn't fall short when it comes to support. Purchasing an S8 tablet gives you the option to take advantage of service packs, including 3-year support from boot up, next day doorstep exchange, and on-site doorstep repair.
The Galaxy Tab S8 Series will also be supported by up to four generations of Android OS upgrades and 5 years of security updates – so you can use your device for longer.
The Galaxy Tab S8 Series is now available at Onecom, see more information here.
For advice on which tablet to choose for your business, get in touch with our experts at 03300 888 999.